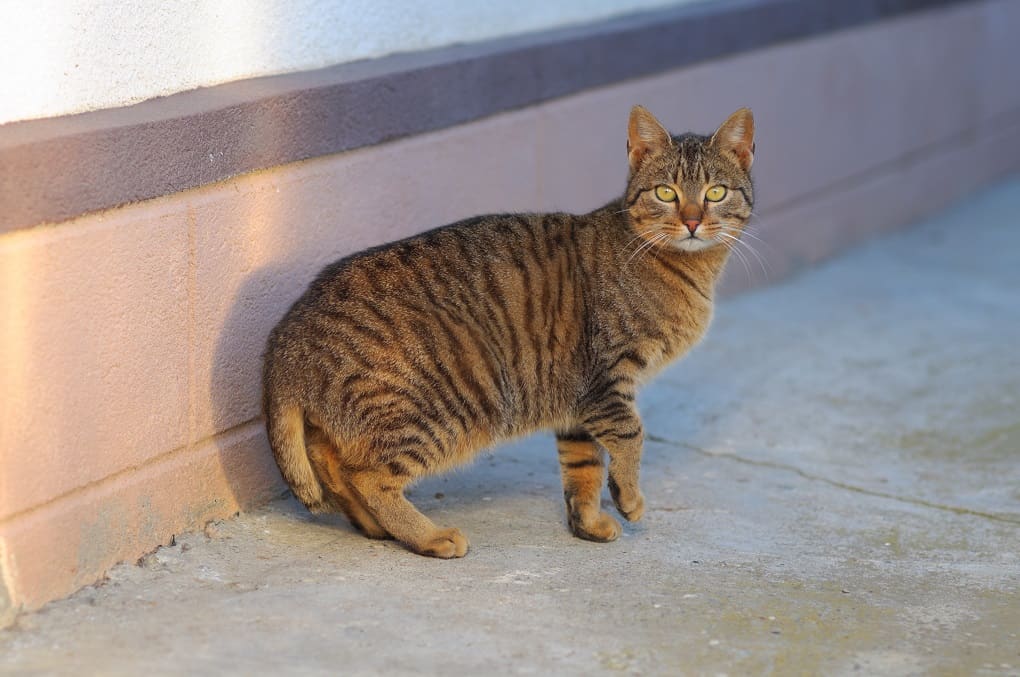 If you are looking for a cat that is self-confident and affectionate, and is friendly with everyone, including guests in your home (as long as it has been properly socialized in the first place), the American Bobtail is an excellent choice.
This is a gorgeous cat with a bit of a wild looking face, but is actually one of the friendlier cat breeds, as long as you keep in mind that it may not have a lot of patience with small children.
This is a cat that loves to play fetch and steal things, and can even be leash-trained for walks.
Origin and history of the breed
The American Bobtail was originally a cross between a Siamese cat and a short-tailed male tabby. This cross was created in the 1960's, so this is a breed that hasn't been in existence for that.
The short tail is due to a natural mutation (although you will constantly be asked what happened to your cat's tail), and it can have a medium to long coat that can be any pattern and color.
This is not the most common breed, and if you want one, it could take a bit of searching outside of your area to find a breeder of American Bobtails.
The American Bobtail came into existence in the 1960's, but didn't really receive too much attention until recent years. As mentioned in the previous section, this cat was a cross between a short-haired male tabby and a Siamese.
The kittens then had their own kittens, and many of these had the bobtail look that we know today, about half of the length of the tail of a regular cat. Because this is not a common breed, and because it received so little attention, it is just coming into its own now.
Learn more about American Bobtail Cat in the short video below:
The father of the original American Bobtail was a short-tailed brown tabby male called Yodie. Yodie was found at an Arizona motel, and a vacationing couple found him and decided to keep him. They also had a Siamese cat, which Yodie impregnated.
That first litter had bobtail and normal-tailed kittens, and the American Bobtail was born. The descendants of these original kittens ended up becoming inbred, and therefore unhealthy, so the focus was to make the breed a healthy one that looked like Yodie, the original father.
Physical standards of the breed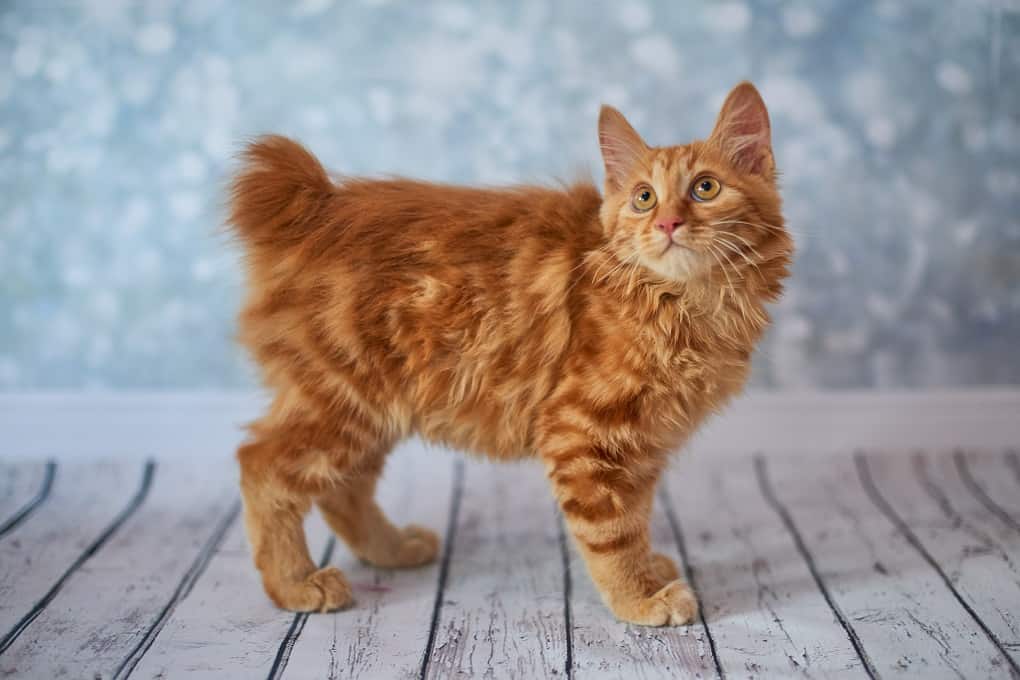 Now we are going to take a look at the physical standards of the American Bobtail, including their size, coloration and markings, and health issues.
Health and possible diseases
All cat breeds can develop genetic health issues, and if you find a breeder who claims otherwise, don't bother buying from that breeder. In general, the American Bobtail is a healthy cat, but if it has no tail, it can have spinal issues.
Make sure your breeder offers a written health guarantee. One of the biggest health problems for the American Bobtail is obesity, so it is your responsibility to make sure that it is fed a healthy, well-balanced diet, and not overfed.
Grooming
It is a good idea to get into the habit of brushing your American Bobtail at least twice weekly. This will help to get rid of dead hair, and it will keep the coat looking heathy and shiny.
The only other grooming you really need to do other than brushing is trimming the toenails weekly, and clean its ears occasionally.
Height and size
The American Bobtail tends to be a long cat with a rectangular shape. The hips are higher than those of other cats, and they have shoulder blades that really stand out.
This is a cat that has a very muscular appearance, and can grow to be quite large.
Weight
This cat can weigh anywhere from seven to 15 pounds. The males tend to weigh more, and you can expect a female to have a maximum weight of around 12 pounds.
If your cat weighs more than this, it may be time to seek advice from your veterinarian about a healthier diet to help get the cat back to a healthy weight.
Activeness
Here is a cat that loves to play, and be played with. Your American Bobtail will have hours of fun playing fetch with you, and he will love to steal shiny objects whenever possible.
You can even leash train an American Bobtail, so you can help keep your cat slim and trim by taking it for regular walks. These cats are highly intelligent, and well-known escape artists, so you will have to keep your eye on your American Bobtail.
Hypoallergenic
There really is no such thing as a hypoallergenic pet. That being said, there are pets that are better for people with allergies than others.
For instance, if you or someone in your home has allergies, it would be best to choose an American Bobtail with a shorter coat. It is easier to look after, and there won't be as much cat hair floating around the house.
Lifespan
An American Bobtail can live as long as 20 years. On average, they do tend to live to between 12 and 15 years, but if you have a pet with no genetic health issues, and you are properly taking care of it, including having regular vet visits, your cat should be with you for many years to come.
Caring Difficulty
The American Bobtail is a relatively hearty cat, so there really aren't a lot of difficulties in caring for them. They do have a tendency to become obese, so you will have to watch your cat's diet carefully.
The only other issue is dry skin, which happens to most cats. Regular brushing will help to combat this by distributing skin oils.
Where to get a American Bobtail
Ideally, if you are looking for a purebred cat such as an American Bobtail, you should choose a good breeder. Unfortunately, there are not many breeders of the American Bobtail, so if you really want one, you will likely have to extend your search, far past your own state.
Start by going online and researching American Bobtail breeders close to you, and go from there.
Another option is to start searching at local animal shelters. You never know what you are going to find, and many people have left shelters with purebred pets.
Don't forget to watch the classified ads in your area as well, as there could be someone selling an American Bobtail.
How much does a American Bobtail cost?
If you are planning on buying an American Bobtail from a breeder, you can expect to spend a minimum of $600.
The cost of the animal will depend on a variety of factors, including the sex (females cost more), if it is a kitten, and if it is retired from showing.
Choosing the right type of American Bobtail
You have a couple of options when it comes to your American Bobtail. You can choose one that is short-haired, which is better if there are allergy sufferers in the home.
There is also the long-haired American Bobtail, which will require more in the way of grooming.
Responsibilities to consider in the care of a American Bobtail
What do they require?
Owning a pet is a responsibility for the entire lifespan of that pet. This is not something to be taken lightly, and you need to make sure that your pet is well cared for.
Do they need a certain level of care and attention?
Your American Bobtail should have regular vet visits in order to take care of any health issues and prevent new ones. You will need to provide a well-balanced diet, and ensure that your cat gets plenty of exercise to avoid obesity.
Characteristics of American Bobtail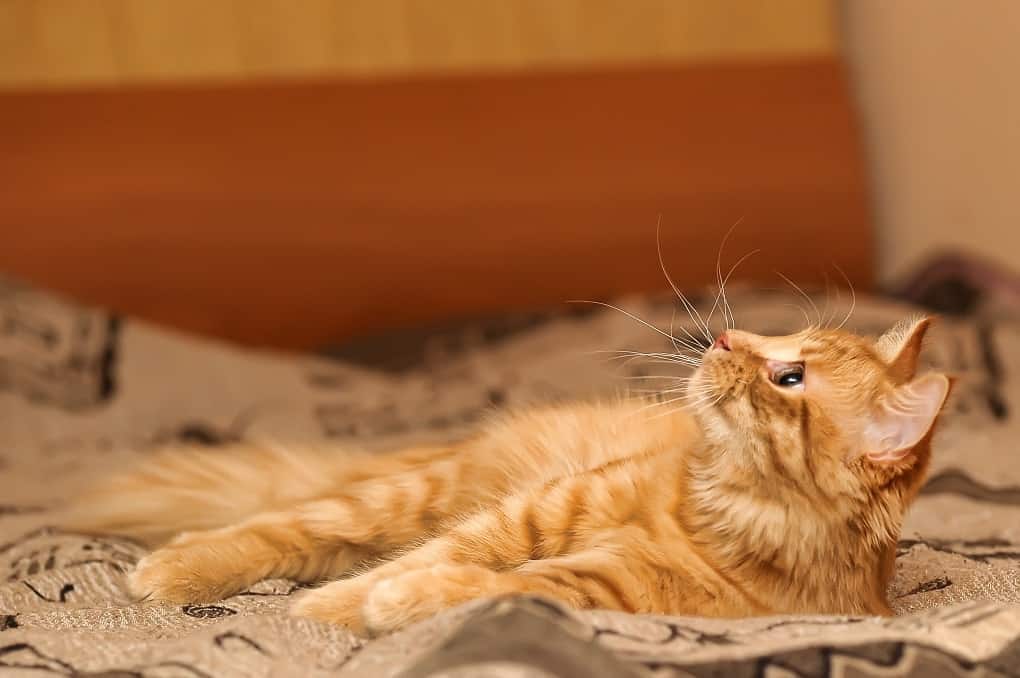 Let's take a look at some of the main characteristics of the American Bobtail.
Behavior
This is a curious and intelligent cat that loves to play as much as it loves to snuggle with just about anyone it comes into contact with.
Pattern
The American Bobtail can come in a wide range of colors and patterns. The main distinguishing characteristic is the short tail.
Affectionate
This is a cat that loves people, although it is not always fond of smaller children. It is best to have an American Bobtail in a home with older children.
Dog/child-friendly
Any cat can get along with a dog if they are introduced properly. The American Bobtail is no exception. It is also good with older children, but not so much little ones.
Intelligence
The American Bobtail is highly intelligent, and can easily be trained to go for a walk on a leash.
Energy
Here is a cat that really loves to play. You will need to find ways to work off his excess energy.
Maintenance
Make sure you brush your American Bobtail at least twice weekly. Trim the nails regularly, and keep its ears clean.
Types of American Bobtail
There are two main types of American Bobtails, short- and long-haired. These cats come in a variety of colors and color combinations, as well as patterns.
Often, they have the look of a wild cat. The long-haired American Bobtails can look a bit shaggy, and they have a slight undercoat. The coat's texture is non-matting, which makes for easier grooming.
The short-haired version actually has a medium-length coat with a soft undercoat. They have soft coats, and often have lynx point and silver coloring.
American Bobtail compared to other Breeds
If you like a cat with a short or even no tail, another option to consider is the Manx cat. These cats can have litters of kittens with tails anywhere from an indentation to four inches in length.
If you are looking for a show cat, the indentation is ideal (also referred to as a "rumpie").
Conclusion
Choosing the right pet is something that takes a lot of time and consideration. If you have made the decision to own an American Bobtail, you will be getting yourself a close and loving companion that will be by your side for many years to come.